Eating. One of the most important parts of a trip. The question which rises always… Where to eat? Especially for you guys, I wrote down my top 5 of restaurants in Antwerp. However.. they are at random, because I really can't choose between these nice restaurants in Antwerp.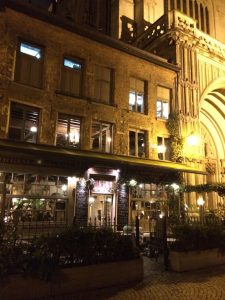 't Vermoeide Model
The name (translated: The tired model) does suppose that the 'model' takes your order and you have to wait for hours to get it. The contrary is true. The tired model, was not what we expected. The owner of the restaurant did receive us very friendly and showed us our table. We came with 6 people, so making an reservation is recommended. Once arrived at the table, we asked ourselves where the tired model was. Asking the crew learned us that it referred to the priest who (long ago) had to pose for an painter. During the painting the priest fell asleep. Resulting in a painting where he is the "vermoeide model".
The quality of the dishes is perfect! We had an supreme diner! With the coffee as dessert they surprised us with an plate full of brownies, cupcakes, whipped cream and chocolate. Hmm!!
't Hofke

An almost unfindable restaurant in the middle of beautiful old buildings. Recommended by a local, who said we really wouldn't skip this restaurant! After a visit, we agree he was right! Reservation is also at this place recommended. Even if you're with just two. The restaurant counts namely an limited amount of tables, whereby it is rapidly cozy busy. At first sight the entrance seems not much more than an side door of a little bar. This door brings you in 't Hofke. The restaurant is an intimate space. Ooh, and about the diner: it can be that you have to wait a minute before it gets served (I think the kitchen is really small), but te waiting will be rewarded! Delicious!
Brasserie Appelmans
Who in Antwerp doesn't know it?! Brasserie Appelmans is a good known concept in Antwerp. You'll find out when you want to have lunch or dinner here. Especially for dinner I recommend to place a reservation! In a beautifull building, near by the Cathedral and the Groenmarkt, you'll find it. The few times I visited (with lunch and dinner) they received me kindly. They've got really a friendly crew. Besides the good/central location, nice setting and friendly staff, having dinner at this place is just delicious!
De Bomma
'Bomma' is Grandma in Belgian. Sounds really fun! Having dinner at 'De Bomma' is also really fun! A restaurant which they decorated attractively and the crew is dressed in grandparents cloths. Yes, they took the old-fashioned pinafore for the ladies and braces for the men out of the closet. Straight with entering you feel the Bomma-vibe. The wall is full of picture frames with pictures of grandmothers. Asking the crew said us that if you would like, you can hang up a picture of your grandmother on the wall. How cool is that! There are much old pictures of a lot of grandma's at the wall. They also thematised the menu very good. Besides the really clear menu, doubt about what to eat is more fact than exception. There are really much nice dishes on menu. I love eating at this grandma!
What is your favorite restaurant in Antwerp?